YOGALATES | The Leading &Perfect Workout Fusion of Yoga and Pilates in Dubai
Both yoga and pilates require concentration, consistent practice and awareness to improve your breathing pattern, align your posture, strengthen the body from inside-out, improve blood circulation, aid digestion and help melt daily tension. Pilates is your strength training and Yoga is your flexibility training.
While yoga focuses on releasing tightness in the hip area and increase mobility in your spine, Pilates requires stabilization, minimal movement and deep core control. Not only do they both complement and contribute to improving your muscle tone, they both build on your coordination, balance skills and help cure an achy lower back. So as you stretch your tendons, you also strengthen the legs and open the shoulders and upper back. While soothing the lower back, you also massage the neck and shoulder blades. While stretching the sides of your body you are also toning the obliques that support the structure of your lower back.
At Yogalates, we focus on a number of chest opening postures, build on stamina, strength, core stability, functional movement, back care and exercise therapeutics to allow for more freedom in your body. You will learn how to build strong abs and move your spine through its full range of motion with grace and ease to support and ensure that your posture doesn't collapse through daily wear and tear. The lateral bends elongate the sides of your waist and massage the lower back. The gentle twists decompresses your spine, increasing the space between the vertebrae and align both sides of your body equally. The chest-opening exercises and forward bends, followed by twists and side bends provide full flexion and extension of the torso and reduces pressure from the lumbar nerve endings. You will also work on different glutes actions to increase hip mobility and improve your upright posture.
Our Yogalates sessions are held on the refreshing pool side terrace at Fraser Suites Dubai next to The Greens, Dubai Media City and TECOM to encourage fresh air into your lungs and leave you walking away feeling energized, stronger and with a new sense of space in your spine, heart and mind!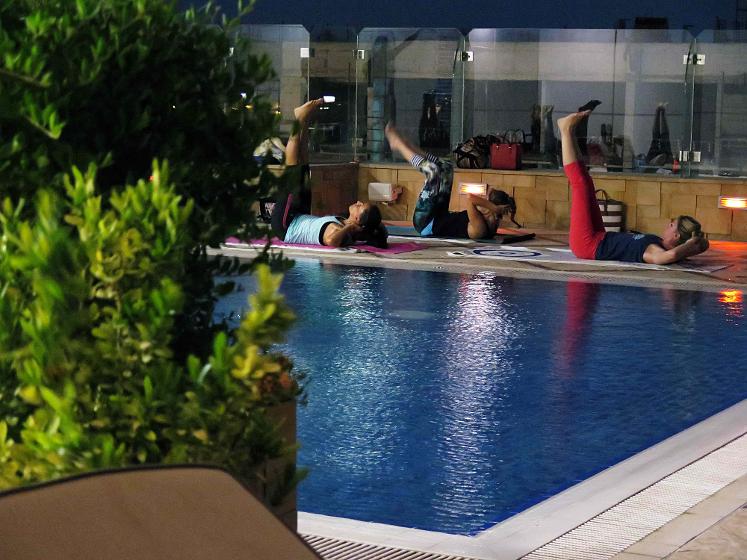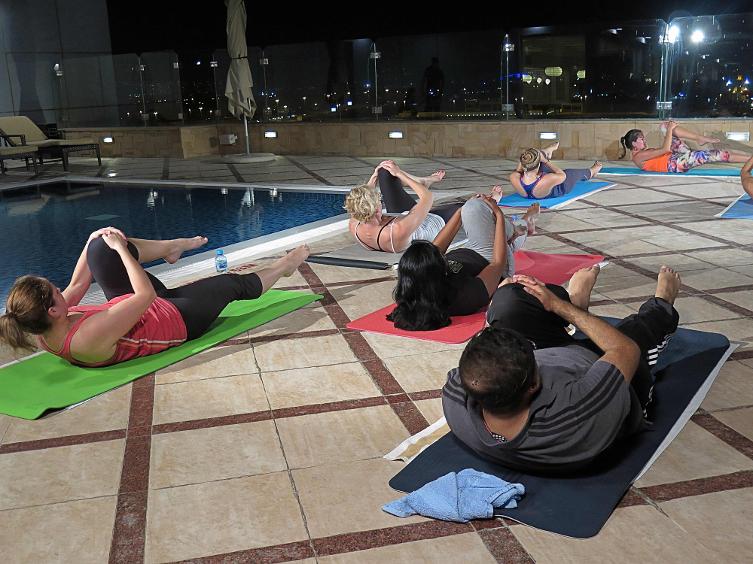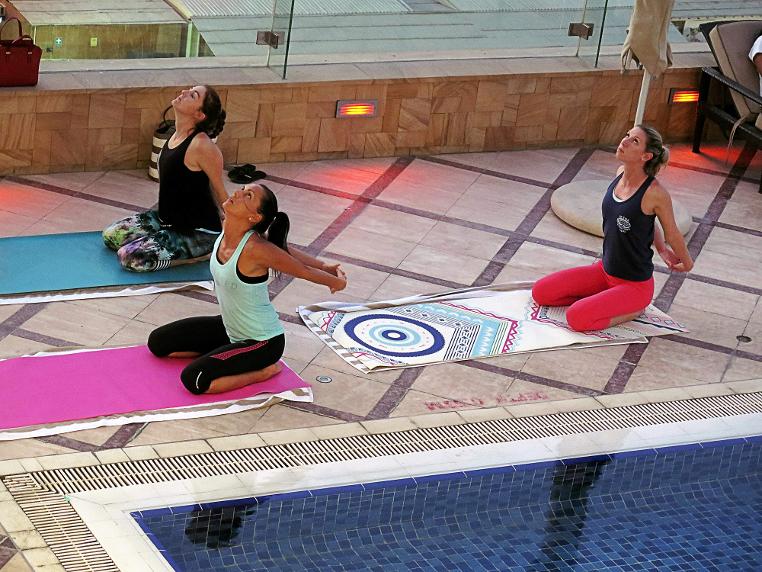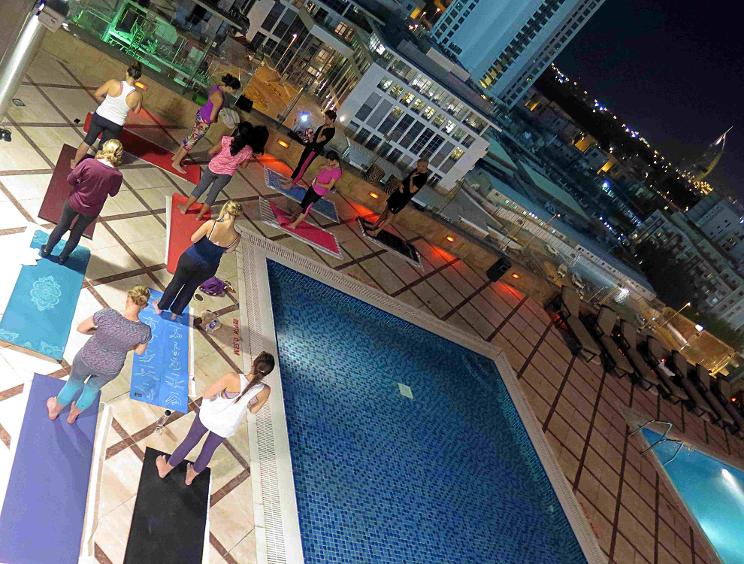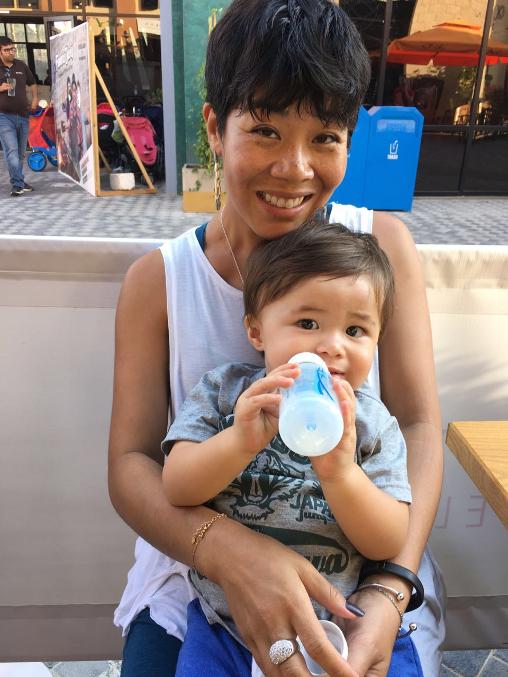 I went to Yogalates this summer after finishing a 6 month programme of chemotherapy. My body was mess! Examples included not being able to open a bottle, not being able to stand any longer than 20 minutes. Coping with an hours worth of pain across the my back after getting out of bed.
After 8 months of practice, twice a week, I understand my body better than I ever have done which has not only allowed me to move without pain again but I have the strength to get into postures that I struggled with even before chemo and oh pregnancy!
I have referred to so many people who are in pain and I have every confidence that it can fix them. ~ Bridgett Lau Cooke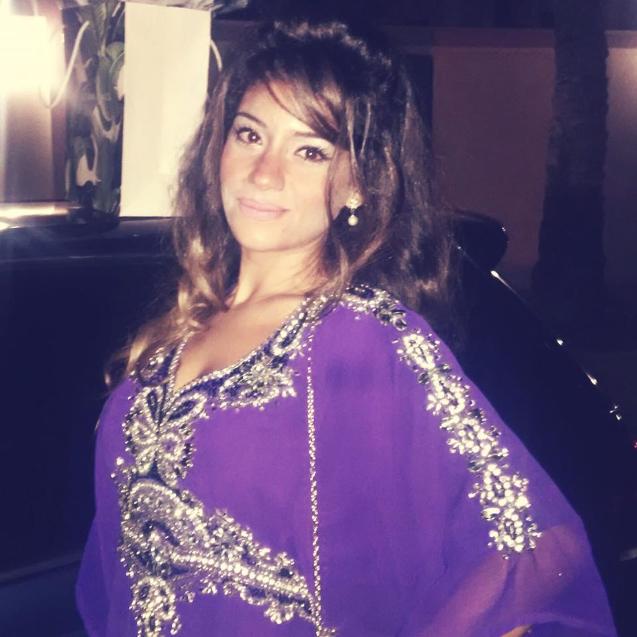 "I've always been dedicated to the practice of yoga, due to it's many health & spiritual benefits. In an hour of yoga you can target key muscles, joints, organ functions as well as learn about the discipline of silencing the mind allowing it to focus and remain calm. The combination of bodily postures & mental well-being is completed through a spiritual peacefulness which yoga brings.
Pilates has also always been a favorite, where the focal point of the class is to strengthen your core / spine, in order to achieve lean beautiful muscles. Pilates is known globally as a system of musculoskeletal exercises that augment sporting activities, assist in injury rehabilitation and supports those with back problems through re-educating the body's postural muscles to create a very safe and strong foundation for movement.
Now think about the fusion of these two. Yogalates offers a middle ground, combining the best of both worlds by fusing principles of core stability with the therapeutic elements of yoga. It infuses a meditative aspect that is the core of yoga class but not present in Pilates class, yet concentrates on strengthening the core as in Pilates class.
Ending your day with a restorative and revitalizing practice with Kim outdoors is definitely something to consider. In a soothing ambiance, on a relaxed rooftop amidst the beautiful Dubai city skyline, you are at a complete state of zen when the steady silent sky is closer to you than the city's hustle & bustle" - Dolce Diamante Mag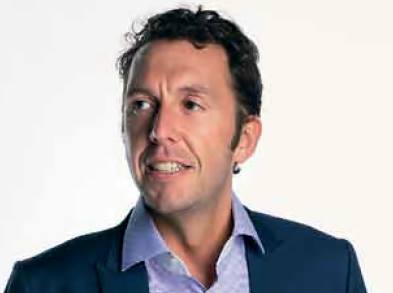 I'm originally from London and I've been managing arabianEye - a photo agency based in Media City - for the last 4 years. I've been attending Yogalates for over several years now and have been meaning to write this testimonial for quite some time! Having experienced long term issues with my lower back, I was recommended to try Yogalates as a means to strengthen my core. Over a year later, my back is far better than ever and my posture has significantly improved.

As well as the physical benefits, I have found that Yogalates really helps me to unwind after a stressful day at work.

I can sometimes turn up in an awful mood (!) but will leave feeling great! I love being outdoors at the moment, so the setting for me is ideal compared to all the other yoga and pilates classes in Dubai!" - Greg Aslangul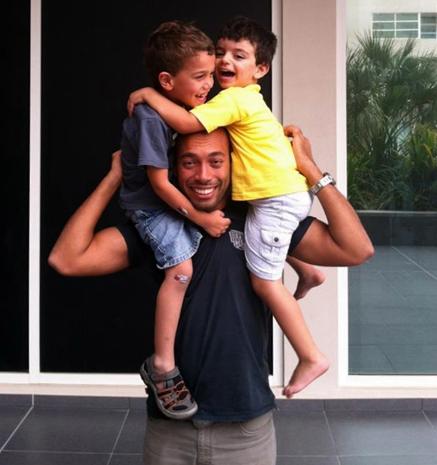 I train in martial arts! Not really yoga's closest cousin - or so I thought - until my lack of flexibility caused multiple injuries. Following my trainer's advice; I went to try Yoga in multiple places in Dubai. That didn't go too well given the pace difference from a boxing gym. Intrigued by the Yogalates concept I decided to try it - after all Joseph Pilates was a professional boxer among other things - with Noura's Yogalates Bliss two months ago. Incorporating twice a week in my already busy training schedule and a full time job as a Solution Architect for a global telecom company seemed to be impossible until I started Yogalates. I noticed a massive progress from the first session, better flexibility, balance, range of motion and even better muscle recovery in between other high intensity training sessions. I got into the vibe immediately with my instructor's help and friendly attitude. Training aside I have noticed great progress in my posture and overall well-being. Monday and Wednesday sessions became my touch-points to reset any physical or mental stress during the week. - Shereef Zaghloul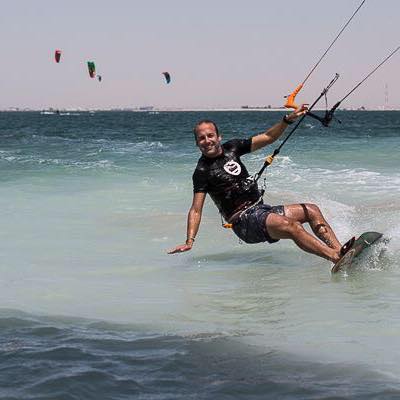 "My initial aim was to improve my flexibility and have some periods of time during the week where I would be focusing on my concentration and breath.. The flexibility part is quite important because as a runner and kitesurfer, Yoga and Pilates both have a strong impact on my performance. On the mental element, the classes help balance my high stressed job and constant travels. It is increasingly relevant to be able to stop and reset. Both goals are being achieved at Yogalates.

I really enjoy my sessions. The venue is refreshing, as I enjoy the outdoor aspect of it quite a lot. Being on a rooftop in Dubai is always cool! - Alvaro Lopes-Cardoso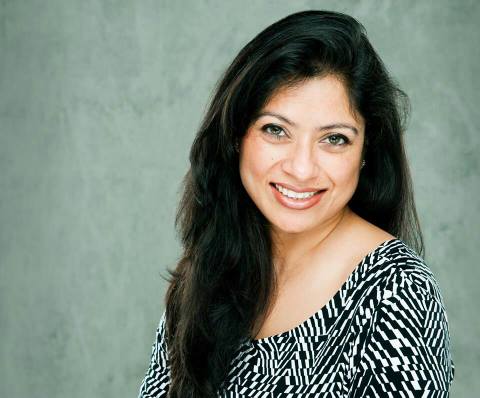 If there is one thing that keeps me sane, energised and balanced, it's yogalates sessions. Infuse Vinyasa Flow Yoga with the practice of Pilates under the articulate clarity and energy in an hour's session every Sunday and Wednesday evening by the poolside and you have the recipe for what is perfectly and aptly called Yogalates Bliss. I have been attending Yogalates Bliss classes for the last 3 years and still never know what to expect out of each session- the instructor keeps us guessing and sweating and breaking into smiles. You have to attend a session to feel the unbelievable positive vibes- Andrita Malik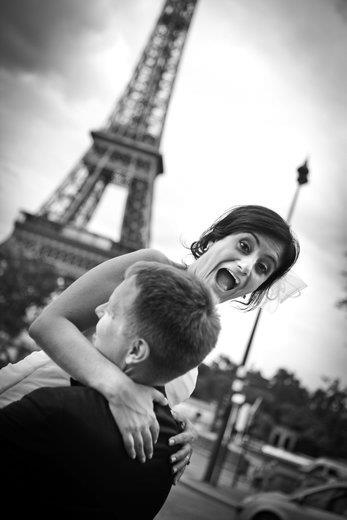 I'm Cigdem from from Istanbul, Turkey. The first experience I had to Yoga was at my local gym in Istanbul. It wasn't the best of because the trainer relied too heavily on the names of the poses, and didn't properly show or demonstrate the movements. Additionally, the class was too crowded and uncomfortable. Needless to say, I tried couple of times, but it just didn't work out for me and I didn't develop a connection with yoga.
When I moved to Dubai last year, I began searching for alternative exercise activities, and having seen the popularity of yoga in Dubai, decided to give it another try. I live in the Greens, and as a result, looked for a class nearby, and thankfully found Yogalates Bliss. I have been attending classes regularly since joining 3 months ago. During the sessions, I initially found myself yawning throughout and feeling exhausted towards the end.

After the 3rd session, however, I began feeling energized and more positive. I realized that in the first couple of sessions, I was releasing my negative energy and exhaustion and replacing it with a more positive spirit. Additionally, prior to joining Yogalates Bliss, I was suffering lower back pain, and at times, I couldn't even move when sleeping. However, after a few sessions, the pain dissipated and my body felt stronger and more balanced. Kim Danoher's style in teaching has also made a huge difference, as she makes sure that we properly do our poses and end peacefully with meditation. I began using muscles in my body not previously worked, and found myself more rested at the end of each session. In addition, having the sessions outdoors allowed me to get some fresh air and escape the artificial environments we all have become accustomed to here in Dubai.
Yoga has now become an integral part life of my life. I sincerely thank Noura El-Imam for organizing these classes and the opportunity to connect with yoga. - Ciğdem Koyutürk
DIRECTIONS | TO FRASER SUITES: