BECOME CERTIFIED AS A RAW FOOD CHEF WITH MIA AND BEGIN SHARING YOUR HEART-HEALTHY PASSION WITH OTHERS!

Whether you're an aspiring chef who loves to prepare meals for friends and family, are a professional chef wishing to expand your skills and portfolio, a health and wellness enthusiast looking to integrate the benefits of raw food into your diet or personally wish to overcome health challenges, allergies, digestive issues and fatigue by nourishing your body from the inside-out with nutrient dense, plant-based foods, we invite you to join us on our next Level 1 - Graciously Green Raw Food Chef Training with Mia hosted in Dubai.
This course is an excellent foundation to start learning how to implement creative and heart-healthy plant based meals into your daily diet.
WHAT IS RAW FOOD AND ITS BENEFITS?
Raw food is plant-based meals prepared without heat or by using temperatures less than 117 degrees Fahrenheit to maintain nutritional value. Most of a food's nutrients are believed to be destroyed when higher temperatures are used, so by eating a raw food diet or just eating more plant-based foods, the rich nutrients can help detoxify your system and give you a renewed zest for life
Having suffered from years of digestive issues and being in a really bad relationship with food, it wasn't until Mia found raw food that she started to really understand how food is the answer to overcoming the sensation of being tired, bloated, heavy, sluggish, low on energy, headaches and not fully being yourself! Mia's mission is not to convince everyone to become a raw vegan, however, she will be sharing her expert feedback that raw food is a tool for people to really understand how food can affect and improve your health. Raw food forces us to go back to basics and simply, JUST EAT REAL FOOD.
If you or a family member is having issues with gut health, digestion, allergies, food intolerances such as gluten, low immunity, catching common colds, feeling low on energy, struggle with losing weight, then this course is a great path to help you unlock those struggles! There is no one diet that fits all, however, what everyone can do is eat more greens! Your blood becomes purified and your body is able to release toxins from the colon, kidneys, bladder, lungs, sinuses, and the skin clears out all of the unhealthy lifestyle habits or exposures you have had over time.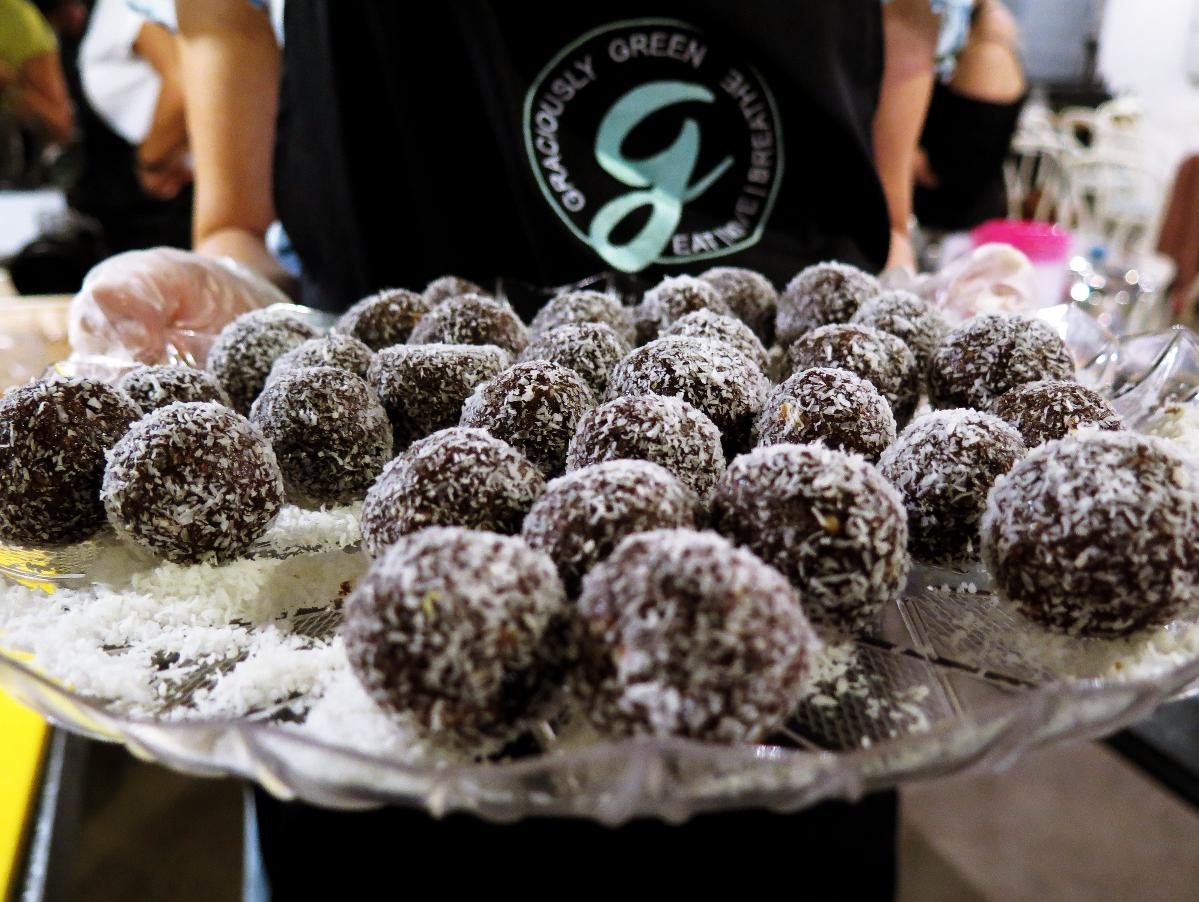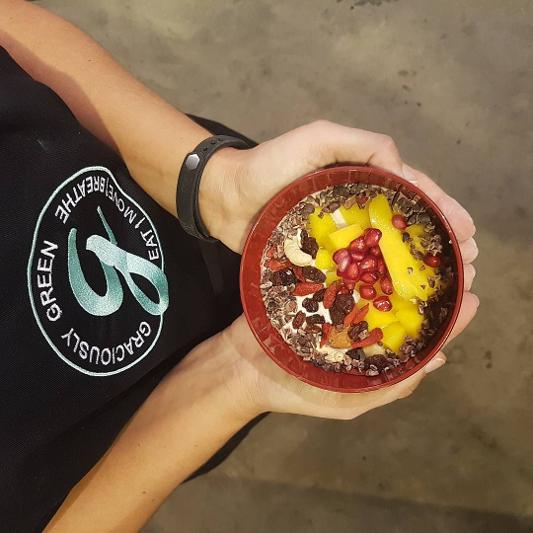 ON YOUR 7 DAY RAW FOOD CHEF TRAINING:

- You will have a deeper understanding on *what raw food is all about* and the fundamentals on how to prepare raw food dishes
- Learn about the nutritional & health benefits of a raw food diet
- How to flavour balance
- How to make simple soups, smoothies, acai bowls, breakfasts, main courses, raw noodles, pizzas, pastas, salads bowls, dehydrated foods and the art of raw desserts, including basic raw chocolates
- How to take any dish and make a raw vegan version
- Dairy free alternatives
- Basic fermentation
- Sprouting
- Low G.I and sugar free alternatives
- Superfood nutrition and practical application
- Dehydration techniques
- Food and personal hygiene in the kitchen
- The raw food kitchen pantry and its equipment, and how to use them
- How to style food for food photography
- Empowered in the ability to produce delicious new dishes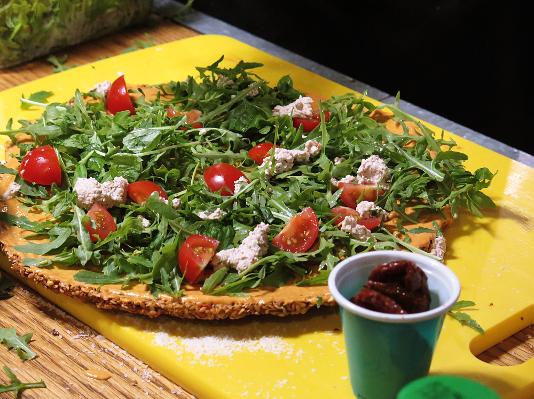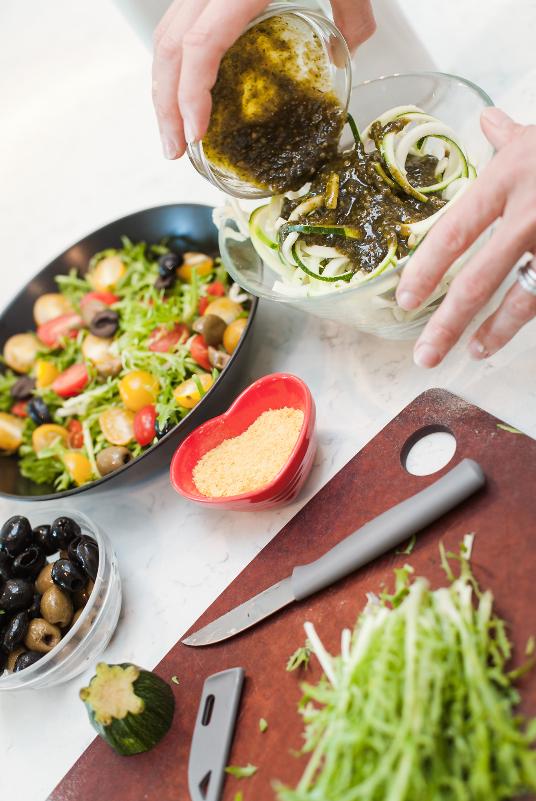 FALL 2018 SCHEDULE
DAY 1.
4:30-9:30 pm
Welcome + Introductions
Why raw and its principles
Food groups used in raw
Equipment, and how to use it – knife skills
Soaking & Sprouting
Recipe creation: Smoothies, Juices, Acai Bowls and Soups - 6 recipes



DAY 2.
4:30-9:30 pm
Naturopathic Nutrition & Food Combining.
Introduction to detoxing with raw food - Eating for health – acid / alkaline balance, good fats, high vibrational foods
Recipe creation: healthy breakfast items – 4 recipes



DAY 3.
5:30-9:30pm
Learn about gut health and how food really is preventative medicine
Learn the forgotten and traditional art of fermented foods and their benefits – 4 recipes
Recipe creation: sauerkraut, coconut kefir, vegan cheese


DAY 4.
5:30-9:30pm
How to use spices, low GI sweeteners, superfoods and other specialist foods
Flavour Balancing
Food Handling and Storage – food safety
Recipe creation: Italian & Asian themed main dishes + Dragon Salad Bowls – 6 recipes


DAY 5.
5:30-9:30pm
Dehydration – benefits and how-to dehydrate
Recipe creation: snacks, crackers, burgers & pizza bases – 4 recipes
DAY 6.
5:30-9:30pm
Raw vegan desserts – basic raw chocolates, energy balls, carrot cake & cheesecake – 6 recipes
Food Styling (food photography) – fundamentals to food styling
DAY 7.
5:30-9:30pm

Integrate deeper into fermentation - gut health and digestion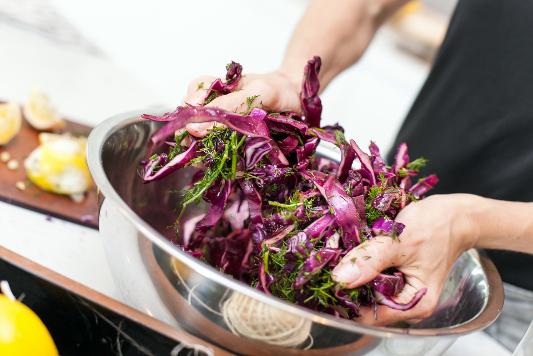 WHAT YOU WILL RECEIVE FOR YOUR INVESTMENT :
Personal hands on training with Chef Mia


A take-home manual packed with: recipes we learn on the course and more; everything you'll need to know about raw food preparation; and all of contents you will need for the course completion.


This course offers much more than just an understanding of how to prepare raw foods. With Chef Mia's holistic background and raw chef business background, you get a glimpse into what this lifestyle is all about and ideas where you might like to next take your training, whether it be to feed your family healthy food or set-up your own raw business!


PLUS you will EAT all of the incredible meals, smoothies & desserts that we will all prepare together each day!




TRAINING INVESTMENT = 5,900 AED + VAT
CHECK OUT A COUPLE OF MIA'S RAWSOME RECIPES:
Raw Vegan Cashew Carbonara Zoodles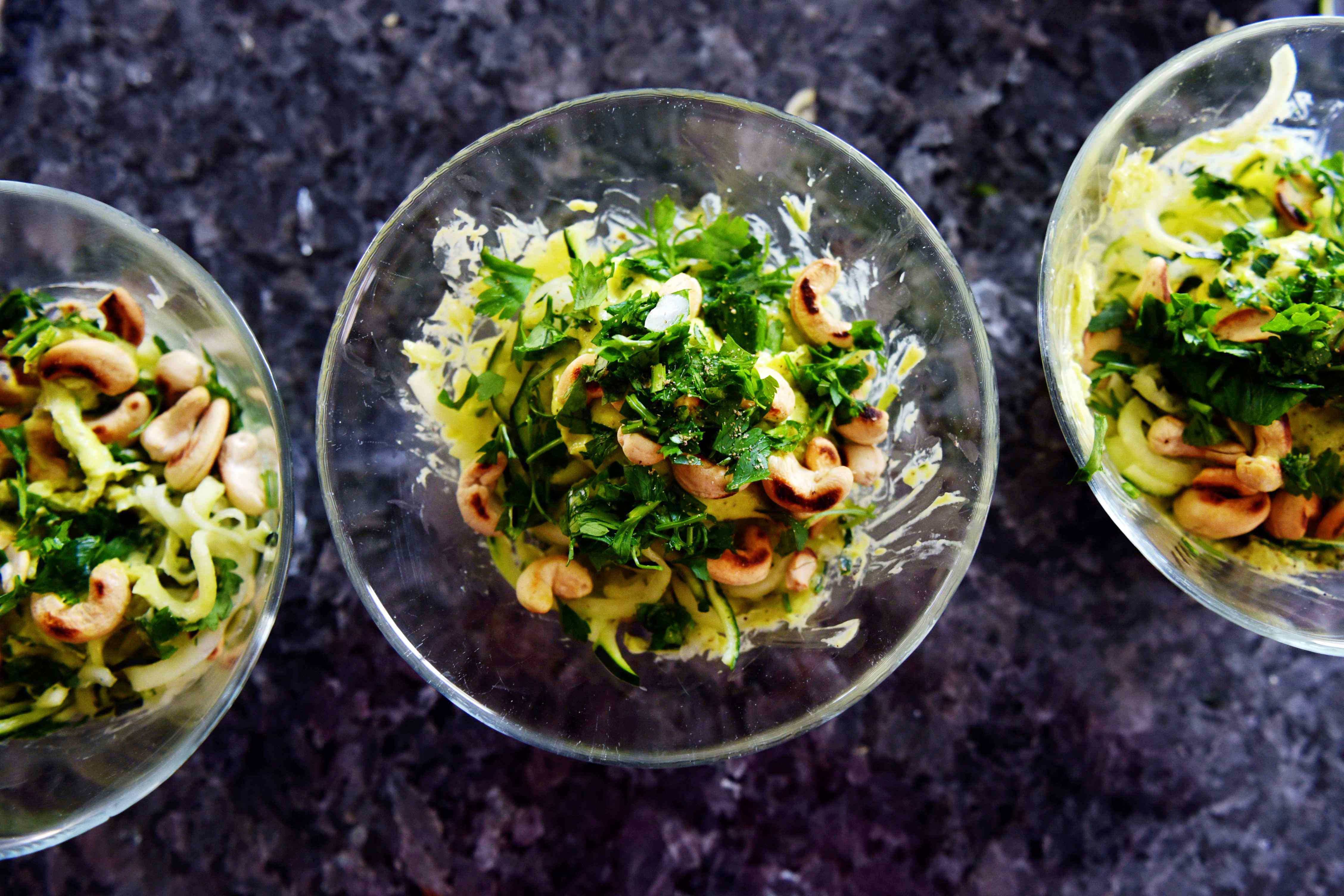 This is one of my go-to lunches just because it only take a few steps to make and is oh so yummy & nutritious! Remember to allow your zoodles to DRAIN before you add sauce to them by simply soaking them in salt and lemon over a sieve and squeezing out the excess water before serving.
Prep Time: 15 mins
Yield: 2 portions





Ingredients:
2 zucchinis – spiralized and drained (see above)


PREPARE THE SAUCE
3/4 cup raw cashew nuts – soak in water for a few hours to soften
2-3 TBS olive oil – if your blades need some extra help – optional
1 TBS nutritional yeast
1 garlic clove minced
2 TBS chopped sweet onion
1/4 cup pine nuts
1 tsp coconut nectar
1/2 lemon juiced (use the juice only)
1/2 soft / ripe avocado for extra creaminess
pink salt and black pepper to taste (optional if making for baby to also enjoy)
freshly chopped parsley and toasted cashews to serve
Directions:
Drain the zoodles - as per instructions above
Blend the ingredients of the sauce in a high speed blender until you see a vortex – you want a creamy consistency.
Add the sauce to the zoodles saving some for the top of each serving
garnish with freshly chopped parsley and toasted cashews.
ENJOY!
RAW VEGAN VANILLA ALMOND YOGURT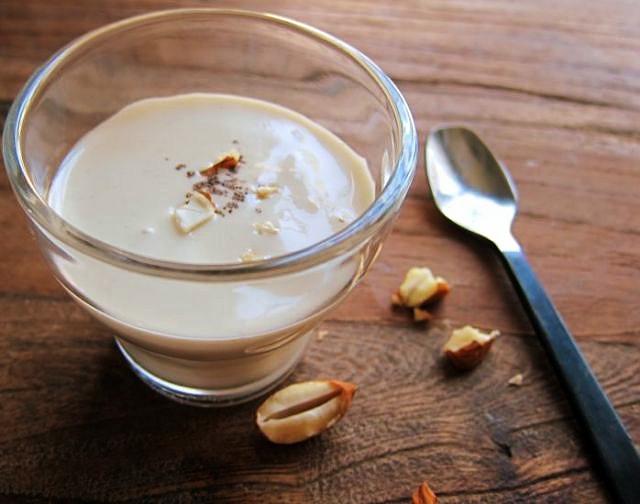 For a long tIme now I have been utterly addicted to coconut yoghurt, which is a great dairy alternative but you know sometimes you need a change! So I played with a few nut yoghurt recipes and this one has turned out pretty Yum. it's so easy to make – you will get a smooth yoghurt – not as thick as with coconut but still creamy and deliish! You can try with other nuts but this one for me is the most versatile and almonds tend to be the most alkaline of all the nuts. No need to waste the pulp as you can freeze and use as almond flour next time you bake!
Yields: about 2-3 servings (double or triple the quantity for more portions)


INGREDIENTS
1 heaped cup activated almonds - ideally dried but otherwise use straight after soaking – activate your almonds by soaking them in water overnight or for at least 8 hours and rinse.
1 tsp coconut oil
1 tsp vanilla powder or the seeds from 1 vanilla pod (scraped out)
1 tsp of culture starter (such as 1 tsp of a live coconut yoghurt) or 2 pro-biotic capsules opened (only use the powder inside and discard the capsule.
1+ 3/4 cup warm coconut water (room temperature is perfect for the fermentation process)


DIRECTIONS
Firstly, activate your almonds – this will make them easier to digest and will get rid of the enzyme inhibitor on the skin.
Place all ingredients apart from the vanilla and culture starter in a powerful high-speed blender and blend until creamy
Using a nut milk bag or cheese cloth, milk the almond mixture over a bowl to remove all of the fibre and pulp – keep this pulp in the freezer for baking purposes
Taking the milk, place it back in the blender and add the vanilla and culture starter – blend for a few seconds
Place the liquid in a bowl with a towel over the top in a warm dark place for at least 8 hours – you will see that the liiquid thickens and becomes sour tasting
Place in a glass mason jar and store in the fridge for 3-5 days – remember to burp the jar to release the gasses as the culture will continue to grow – believe me, yoghurt explosions in the fridge are not fun to clean up!!! :0)
ENJOY!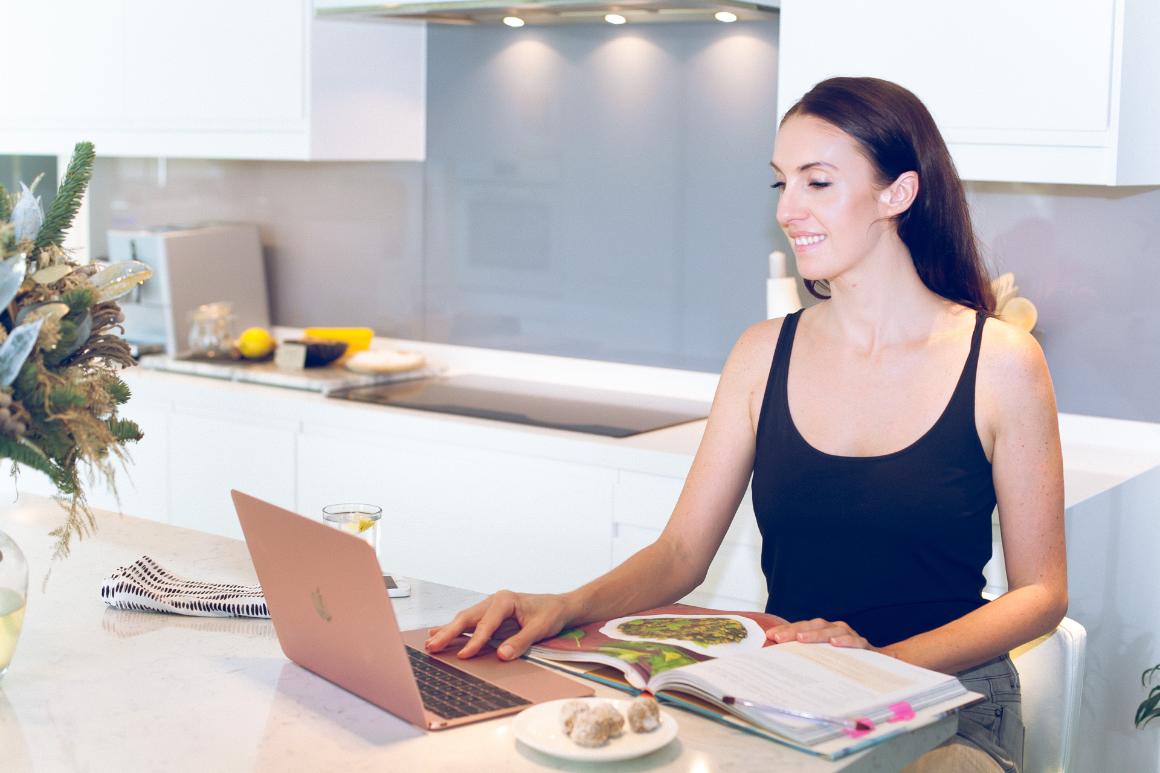 Mia is a legal business development manager turned certified holistic health & nutrition coach (AADP*) and qualified raw chef. Click - here - to read a little bit and more about her previous career as a business development manager for Allen & Overy - a leading international law firm - and what inspired her to shift gears and passion embarking into the culinary world!
Since qualifying as a raw chef and detox facilitator under the reputable culinary school Pure Joy Academy with Chef Elaina Love, Mia has continued her raw education undertaking additional raw food courses under some of the most well-known raw chefs, including The Raw Chef in London and Amy Levin (a raw chocolate specialist).
When she was based in Asia, Mia worked as the in-house plant-based recipe developer and Director at Hong Kong-based Eat FRESH, an online e-green grocery, as well as recipe development consultancy roles for several other healthy food businesses, including juicing companies and meal delivery services. Mia took on her first Dubai-based role in 2014 when she became the head chef of a NYLA House, a women's wellness centre with a healthy concept food café.
After taking time out to raise her baby daughter, Mia worked as the in-house raw chef and holistic health coach at Essentially, Dubai. She developed raw and plant-based recipes with a focus on "just eat real food", inspiring clients with an abundance of delicious and nutritious food and advising clients on their tailored meal delivery plans.
Mia has a particular interest in food as a preventative medicine and is currently working towards her Diploma in Naturopathic Nutrition.
Having lived in the UK, Asia and the Middle East, Mia's style of food is eclectic taking inspiration from the different flavours of the regions as well as medicinal uses of food from Chinese medicine, Ayurveda (from her yoga studies), and naturopathic applications.
As well as being passionate about food, Mia is equally as passionate about yoga, having practiced yoga for over 8 years, Mia is now a 500 hour qualified yoga instructor with the Yoga Alliance, with a special interest in yoga for wellness. Mia truly believes that yoga and food go hand in hand when it comes to a sustainably healthy lifestyle.
In her spare time, Mia loves to write and is a regular food and health contributor to the popular online magazine www.sassymamadubai.com.
Mia's recipes have also featured locally on www.ripeme.com, Spinney's Food Magazine and Aquarius as well as other global publications. Mia is also a busy mum to a happy & healthy 2 year old Thalia and a furry son, Zighy the dog.


*American Association of Drugless Practitioners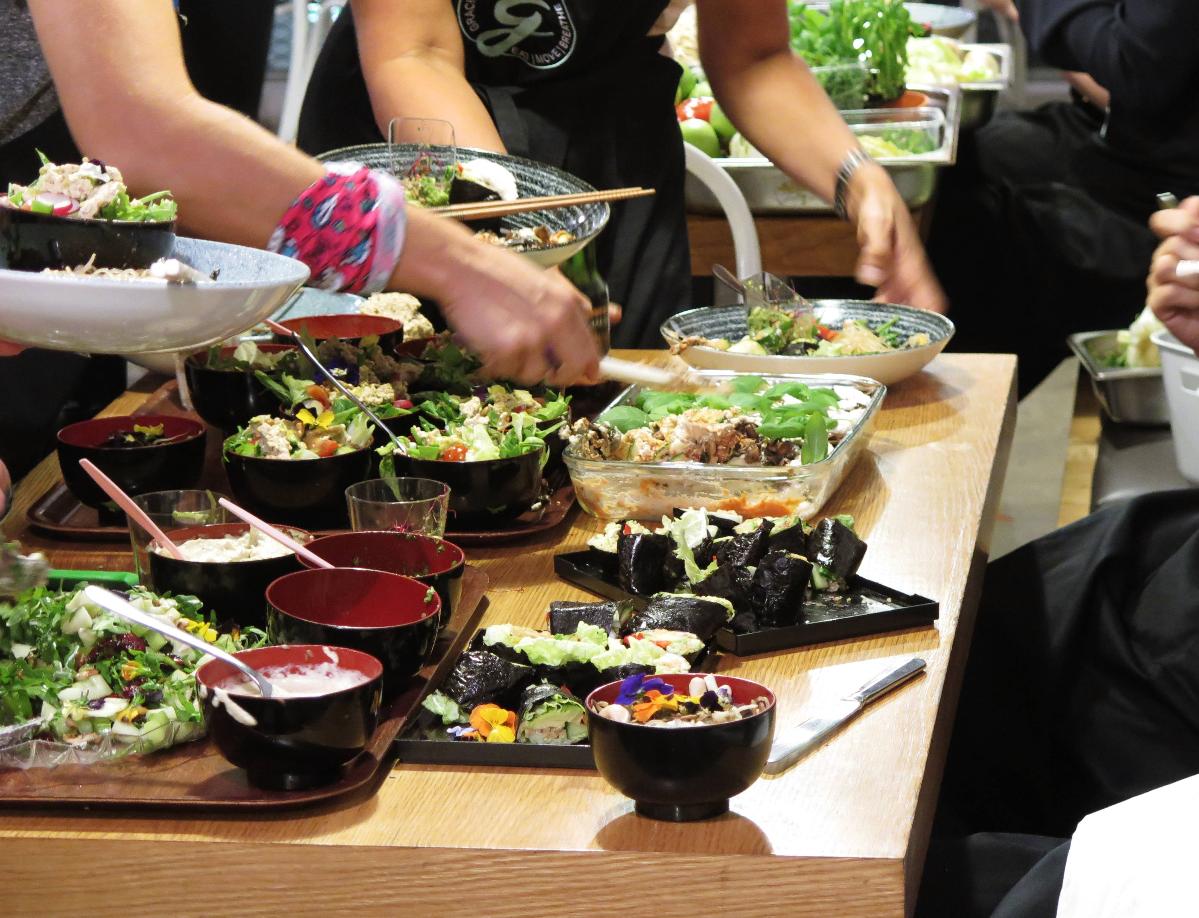 MIA INTERVIEWED & FEATURED IN THE PRESS
-CLICK ON THE IMAGE BELOW-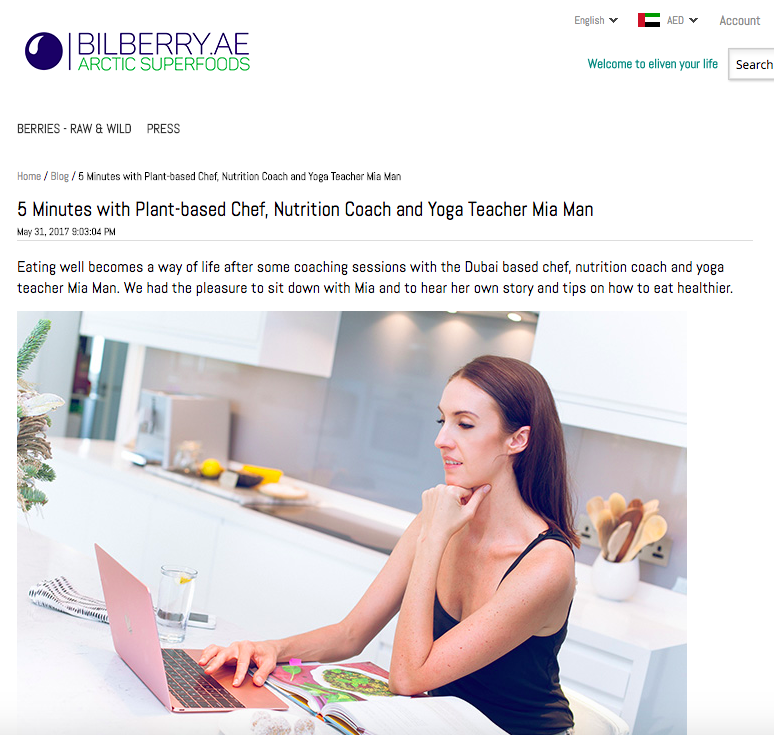 "I recommend Graciously Green Plant Based Raw Food Chef training for anyone who want to add more uncooked vegetables and fruits to their everyday diet. It's essential to know basic methods how to handle the food and how to make appealing raw food for any kind of eater and irrespective their diet. This is not just being 100% raw foodie but learning in practice to prepare raw food a way it's easy to incorporate to each own kitchen and diet. Loved everything in the course. It's the needed nudge towards healthier food choices. I feel good about myself, that I am making good for me and my family". – Minna – part-time vegetarian - Naked Plate blog editor
"A very interesting and enriching experience where I got to broaden my knowledge about raw food cuisine and be exposed to its various principles and techniques. I acquired new cooking techniques and learned some twists which can make a significant difference in flavors and textures. It was also a pleasure to meet Chef Mia as well as all the participants – each having had a different journey in terms of health and nutrition, and different objectives" - Tatiana
"Mia has a truly compassionate nature which translates into her work in many ways, be it through her health coaching, her cooking or her yoga teaching. The careful consideration of ingredients she shares always results in the desired effect of a perfectly balanced meal. She provides a beautiful blend of pushing and healthy encouragement to achieve goals in life, on and off the yoga mat. Mia is a real inspiration in her quest for a healthier world. I would recommend her to anyone looking for health enlightenment."
Rebecca, UBS VP Relationship Manager, Hong Kong
Click - HERE - to view the complete album OF OUR 2017 TRAINING
Raw Chef Training Fall 2018 Registration - Submit Details Below:
- REFUND POLICY -
PLEASE NOTE THAT ALL FEES ONCE PAID WILL NOT BE REFUNDED OR ADJUSTABLE UNDER ANY CIRCUMSTANCES. WE UNDERSTAND THAT EMERGENCIES AND OTHER LIFE SITUATIONS DO ARISE. WE RECOMMEND THAT YOU CAREFULLY REVIEW YOUR SCHEDULE AND UPCOMING OBLIGATIONS TO ENSURE THAT YOU CAN COMMIT FULLY TO THE COURSE. IF UNFORESEEN CIRCUMSTANCES OCCUR AND THE COURSE IS CANCELLED, THE FULL REGISTRATION FEE WILL BE REIMBURSED, BUT WE WILL NOT BE RESPONSIBLE FOR ANY OTHER CHARGES INCURRED BY THE PARTICIPANT, INCLUDING HOTEL & AIRLINE FEES.


FOR ALL OTHER INQUIRIES
EMAIL: YOGALATESDXB@GMAIL.COM | CALL 00971 50 3289 642
Copyright Yogalates Bliss in Dubai - 2017
www.yogalatesblissindubai.com | yogalatesdxb@gmail.com