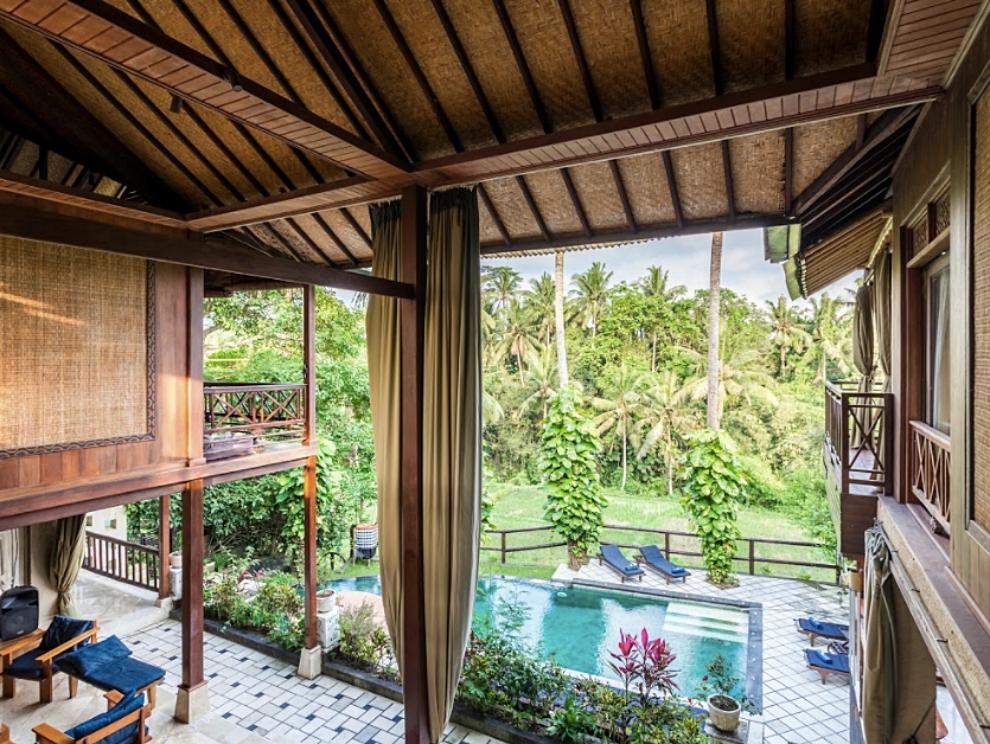 Craving an escape from the UAE to the tropics of Bali to make a change in your lifestyle, dietary habits and give yourself a gift of personal growth?

Gaia Retreat Center is nestled in the heart of terraced rice fields of Ubud - the most desirable location in Bali and voted the friendliest town in Asia.
The view from the villa is quintessential Bali. Think swaying palm trees, therapeutic breeze, beautifully landscaped rice terraces and wind chimes singing away. The grand entrance of opens up to marble and teak wood that has 8 bedrooms, private massage room, infra red sauna and hot tub jacuzzi,large screen projection, full staff and a beautiful pool perched at the edge of the rice fields with decks and views to soothe the body and mind.
You can take a leisurely 15 minute stroll to town and discover a vast array of markets, world class raw & vegan restaurants, Balinese warungs (kitchen) and a plethora of healers, spas and yoga studios. Ngurah Rai International Airport (Bali's international airport) is just 90 minutes away from our villa making it a relaxing destination to travel to. Our friendly staff can also arrange tours during your stay if you wish to explore more of the island. And since Bali is a fairly small island, you can plan many exciting adventures and day's trip around the island while you retreat at our villa.

www.gaiaretreatcenter.com

We offer 3 main services for you to choose from:


Detox & Yoga Retreat |

Transcendental Meditation Retreat | Host your Retreat at OUR CENTER
BALIDETOX & YOGA RETREAT PROGRAMS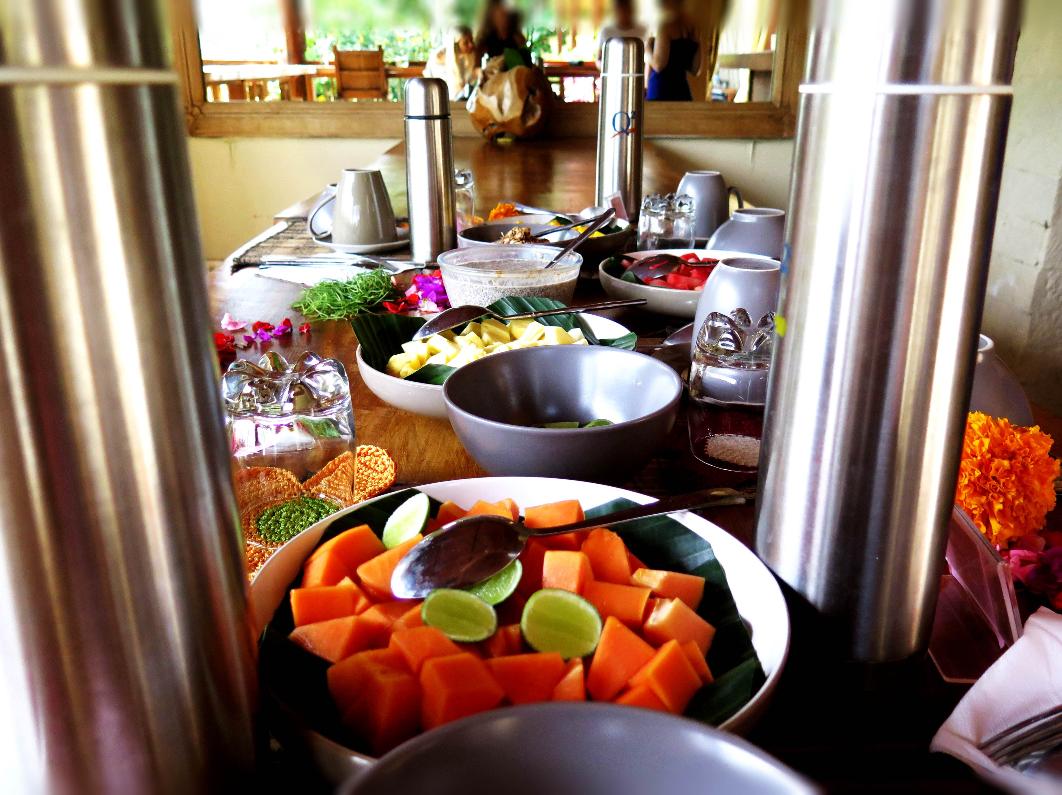 If you really need to change your life and give yourself a gift of personal growth,
our
tailored

detox & yoga retreat programs are an excellent choice for you.



Our bodies naturally cleanse themselves through detoxifying our organs. However, our liver and gut suffer from the stresses of modern lifestyles that challenge, instead of support their functions. It's easier to continue running a stressful daily lifestyle than it is to step away to nourish ourselves. This is where our detox tailored programs come in.

Detox, short for detoxification, is the body's natural, ongoing process of neutralizing or eliminating toxins from the body. Toxins are anything that can potentially harm body tissue, including waste products that result from normal cell activity, such as ammonia, lactic acid and homocysteine, and human-made toxins that we are exposed to in our environment, food, water and daily stress. Benefits of a cleanse, detoxifies your body from the inside out – at a complete metabolic and cellular level. Your blood becomes purified and your body is able to release toxins from the colon, kidneys, bladder, lungs, sinuses, and the skin clears out all of the unhealthy lifestyle habits or exposures you have had over time. When you give your digestive system "a break" your body has more energy to devote to releasing toxins. You will also get to choose to practice gentle yoga or meditation to help eliminate the toxins from your blood stream.

No matter how healthy we are, the air we breath does have micro fibers of heavy metals that are toxic to our bodies. The more toxic your body is, the more difficult it is for you to lose weight or have better food and vitamin absorption. The human body is designed to rid itself of toxins, but it can become overwhelmed by the sheer volume of external toxins. Two natural fiber powder which we include in our detox and yoga retreat, support detoxification and help IBS (Irritable Bowel Syndrome) and a distressed digestive system alongside a shot of a powerful alkalizing agent, full of malic acid, aiding in skin issues to headaches.

During your free time, you will enjoy relaxing by our private pool overlooking the rice fields, colonic sessions, lymphatic massage, body scrub, far infrared sauna, reflexology, invigorating yoga practice, cherry picked movies on health & wellness,
TRANSCENDENTAL MEDITATION RETREAT
Day to day, stress fills us with so much tension and anxiety that it is often difficult to even enjoy the little things that used to make us happy. It compromises our immune system, stunts cognitive and emotional development, and raises blood pressure. Toxic stress also can fuel a challenging range of disorders: eating, drinking, sleeping, obsessive-compulsive, bipolar, and more. It speeds the aging process and shortens the life span.
The practice of Transcendental Meditation (TM) at Gaia Retreat Center in Bali, is a simple, effortless technique that anyone can learn and enjoy. It allows the active-thinking mind to settle down to its own state of inner stillness at the deepest level of awareness, one that goes beyond all thoughts and feelings. The technique doesn't focus on breathing, chanting and philosophy like other forms of meditation. Instead, it encourages a restful state of mind beyond thinking. It is one of the most simplest, effortless (no effort put into concentration or focus), most practical way of accessing the transcendent.

"TM," is short for Transcendental Meditation. the acronym used by insiders, is the practice of sitting for 20 minutes, twice a day, repeating a personal mantra given to you by our accredited TM teacher. The technique is based on a Vedic tradition, an ancient Indian process of enlightenment. Fifty years ago, spiritual leader Maharishi Mahesh introduced the practice to the rest of the world, founding the Transcendental Meditation Program. According to the program, TM allows your mind to settle into a state of pure awareness, known as transcendental consciousness. In this state, the body is at its most relaxed, and the brain supposedly has the greatest access to its creative energy. Devotees claim that TM gives them a creative edge, allowing them to be more focused throughout the day and access innovative, creative ideas.
"Perhaps its greatest benefit is that it's relatively quick to learn and easy to master. No waiting weeks or months of practice before you see results: TM cuts right to the chase, taking only days — or for some, minutes — before one feels reprieve from their painful and overwhelming thoughts". ~ Forbes
HOST YOUR RETREAT AT GAIA RETREAT CENTER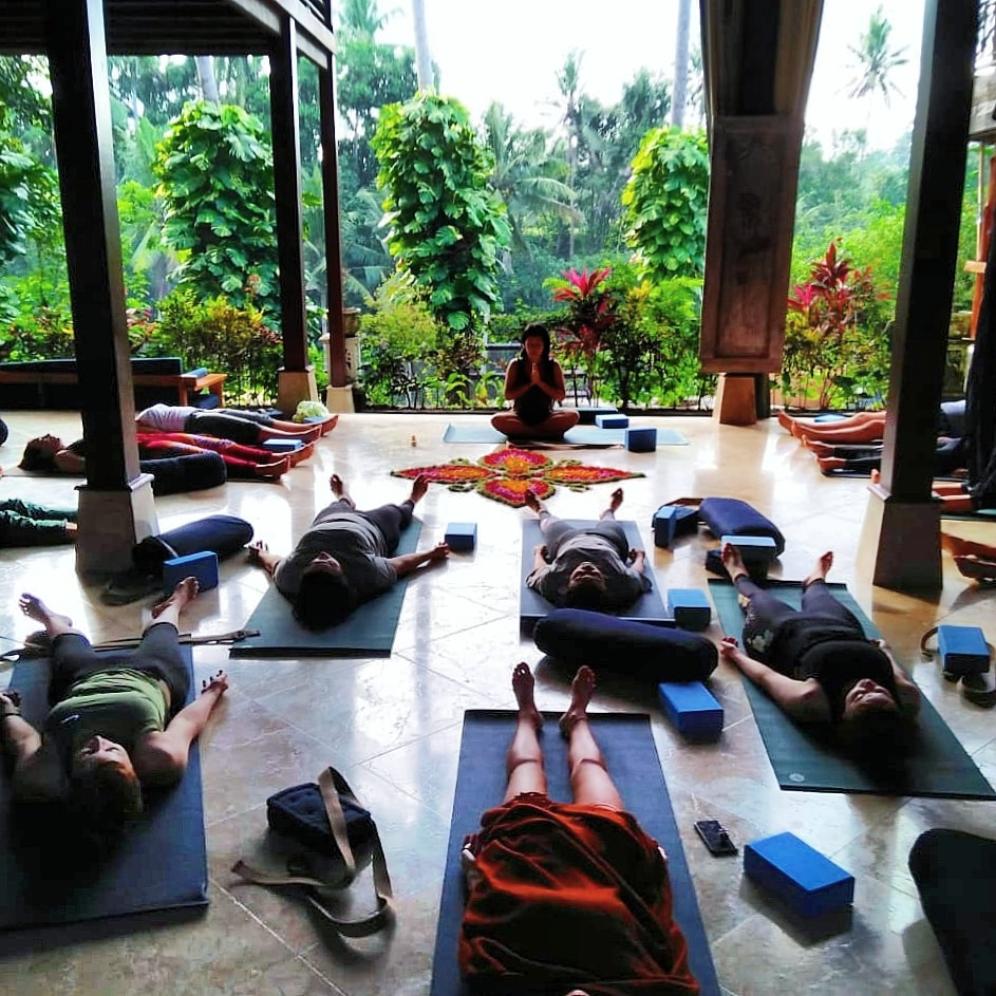 We love hosting events and helping you design a sacred space to learn and grow.
We also know that the more comfortable you are hosting your training or ​retreat with everything behind the scenes been taken care of, the more relaxed and receptive your own participants will be.
Villa Gaia is situated in Ubud, voted as the most desirable town in Bali and considered as the creative and cultural mecca with a vast array of healthy restaurants raw, vegan cafes, spas, wellness therapies, yoga studios and the bustling local markets all within 15 minute walking distance from the villa or a short ride into town. Ngurah Rai International Airport (Bali's main international airport) is just 60 minutes away from our villa making it a relaxing destination to travel to. Exploring the island is a must and our friendly staff can arrange tours for you and your guests.
THE VILLA
There are 8 bedrooms which can comfortably accommodate 16 guests at double occupancy.
We have two fully equipped kitchens as well as full time kitchen staff and superb amenities, offering the best in Bali. Twelve large lounge chairs surround our pool, perched at the edge of the rice fields to watch the sun rise in the morning or turn on the underwater lights for a dramatic night time dip. The large open entrance area on the ground floor can fit up to 60 people for lectures and 30 people for yoga or workshops. There is a projection TV to support your video demonstrations.
Gaia Retreat Center offers students and teachers the perfect environment; a private and natural setting surrounded by acres of rice terraces and swaying palm trees due to a therapeutic knock-out breeze allowing you to pursue a mindful, health-conscious lifestyle in peace and solitude. We specialize in plant-based cuisine with all ingredients sourced locally and we can cater to non vegetarian eaters as well as clients with specific dietary needs.
Breakfast is inclusive at no extra charge and lunch / dinner are optional - we cater to all requirements and preferences from raw / plant based dishes to vegetarian and non vegeterian options. Our staff are highly trained in satisfying every dietary need and cater to all tastes.
Note - Villa Gaia is rented as a whole and not per room / per person. Rates per daily rentalwill be provided upon inquiry.


INCLUDED IN THE VILLA RENTAL
Entire access to the property

Daily Breakfast

Return Airport Transfers

All natural soap, shampoo + conditioner provided and made locally in Bali

Daily maid service

Unlimited wifi

24 hour security

Fresh coconut water + ozone drinking water

Ginger herbal tea + Balinese coffee

Private Swimming Pool
Sauna, Hot Tub Jacuzzi
Discounted massages at $15 per hour
Discounted colonics at $50 per hour
Free listing on our website under upcoming events

& facebook

events page

.

Complimentary choice of 2 out 4 experiences featured below:
Bali's Kecak Fire & Trance Dance
Tirta Empul Holy Water Spring Cleanse
Historical Temples & Meditation Chambers of Gunung Kawi
Shiny Pearl Foundation - our charity partners
YOU CAN ALSO REACH US VIA EMAIL:
GAIARETREATBALI@GMAIL.COM
www.gaiaretreatcenter.com
Copyright Yogalates Bliss in Dubai - 2019