LEARN TO TEACH MEDITATION LIKE A PRO & SHARE THE HEART HEALTHY PRACTICE WITH OTHERS!
Whether you're a teacher wishing to incorporate meditation into your classes / privates / retreats OR TO ESTABLISH A personal practice, this 5 day meditation training
with David Magone
will get you there.
Stress is a major inducer of hypertension. As with anxiety, stress-related hypertension comes and goes - and is fairly normal. By including meditation into your daily life, you can prevent stress from developing into a chronic, daily condition. Just 10 minutes of resting with your eyes closed can transform a problem, calm shattered nerves, and relieve sensations of fatigue. Many of us who have experienced the benefits of meditation and mindfulness have a deep desire to share the practice with others. Those who practice daily meditation are infused with peace, creativity, compassion and transformation on every level: physical, emotional, mental, and spiritual. Making meditation part of your daily ritual can help you clear the cobwebs out of your head, set a positive tone the day, and make you more resilient when things don't go the right way. You'll begin to understand how powerful meditation could be in confronting daily life anxiety and patterns of insecurity.

The meditation techniques described below and what you'll be empowered to teach under the guidance and expertise of David Magone from Boston and director of PranaVayu School, are designed to be as calming as possible. Therefore, the morning yoga sessions will focus on Restorative Yoga such as a slow, floor-based class that incorporates back-bending and twisting poses that encourages heart opening as well as liberation for the hip flexors, chest, and spine to build gentle heat in the body.
You will learn how to set up an effective meditation group, lesson plans and teaching techniques for both private clients, group classes and yoga retreats.
You will also learn how to identify and overcome common obstacles to meditation practice and how to evaluate signs of progress.
YOGA NIDRA TECHNIQUE
A state of consciousness between waking and sleeping, is a profoundly relaxing practice that teaches you how to induce the relaxation response at will. The practice primarily consists of conscious body scanning practices and visualization exercises that can be done pretty much anywhere. Yoga Nidra is very useful for insomnia, anxiety and whole host of other ailments as well. Because it focuses on inducing relaxation through awareness of physical sensation, it's also the perfect meditation for beginners to start with.
​
SHAMATHA TECHNIQUE
Shamatha Meditation is a traditional concentration practice that can be used to calm the emotions and slow down mental chatter. This particular meditation is typically done by practicing single-pointed meditation on an external object or a focal point such as the breath. When done regularly, this practice can strengthen concentration, balance the emotions, even make you more resilient to daily stressors.
​
GUIDED WALKING MEDITATION TECHNIQUE
Guided Walking Meditation is an excellent companion to a seated meditation practice. It's a traditional practice that can be used to maintain mindfulness and loosen up stiff body parts between practice sessions. It provides an excellent way to ground your body and involves a very deliberating concentration on the motions of walking that we normally take for granted. Done with mindfulness, the simple act of walking can be used to induce the relaxation response and to develop a deeper appreciation for your body and the world around you.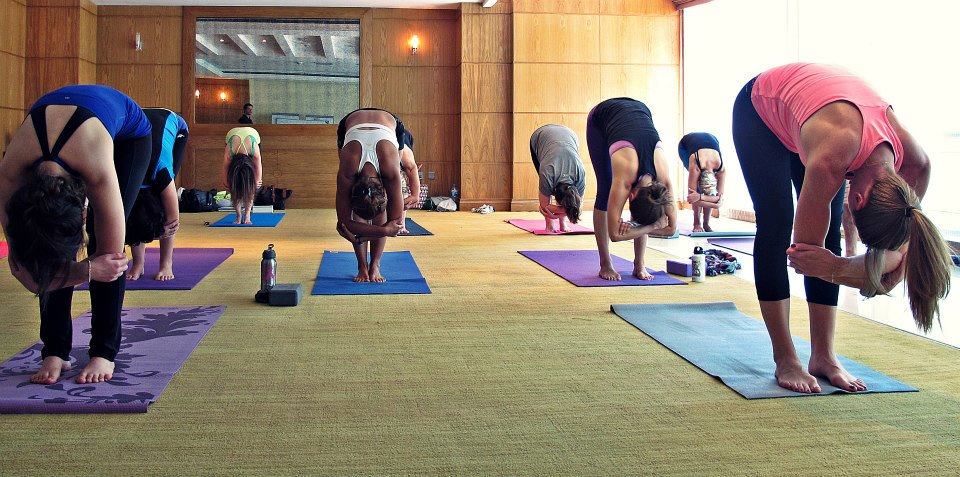 5 DAY SCHEDULE
9AM - 5PM
Day 1
Restorative Yoga
Get to know you session and full program overview
Barrier removal exercises
Introduction to the relaxation response
Guided Yoga Nidra practice and group discussion
Practicum: Student guided Yoga Nidra sessions in small groups
Tips for working with insomnia
Day 2
Restorative Yoga
Why do we need meditation? Group brainstorming exercises.
Retrain Your Brain! A brief introduction to the nuts and bolts of Shamatha meditation
The four parts of a meditation session
Meditation Session I
Setting yourself up for success: The basics of seated posture and what to focus on when meditating.
Meditation Session II
How to do walking meditation
Student guided walking meditation practices
Yoga Nidra
Day 3
Restorative Yoga
How to overcome noise, discomfort and the monkey mind.
Meditation Session I
Additional tips for common challenges: The five faults of meditation and their eight antidotes.
Meditation session II
What to expect from your practice: The five moods of meditation
Meditation session III
Yoga Nidra
Day 4
Restorative Yoga
The 9 stages of meditation
Group assimilation exercises and art show
Afternoon meditation retreat
Yoga Nidra
Day 5
Restorative Yoga session
Silent morning meditation retreat
Student guided shamatha practices
Final Q and A
Graduation
This course is open to complete beginners, therapists, yoga teachers and meditation teachers.
It is not necessary to have any previous experience, although it would be beneficial to start attending regular meditation classes prior to the training.
Certification: Upon successful completion of this program, you will receive a certificate that will allow you to offer your own meditation classes. Yoga Alliance Registered Teachers are eligible to receive 40 CEUS for taking this training.
*Please note: If you are not a currently registered Yoga Teacher, some locations may require additional hours of training before allowing you to begin teaching.
GET TO KNOW YOUR TEACHER - DAVID MAGONE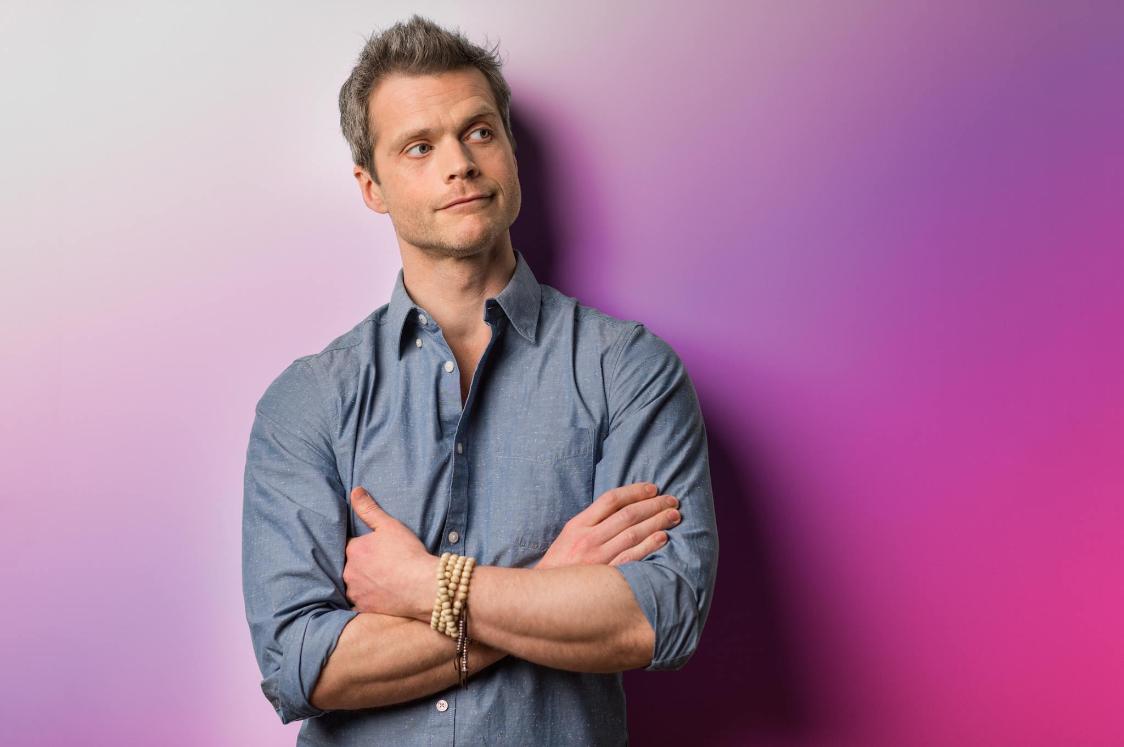 My name is David Magone. I grew up in the Rocky Mountains, just outside of a small town in Montana called Livingston. I've been a full time yoga teacher for the last fourteen years, and when not teaching yoga, I spend most of my time cooking, traipsing through the woods, or hanging out on the Maine Coast with my partner Alexandra.
My yogic journey began in 1995 with a monk, a can of coca-cola and a packet of coffee creamer.
At that time, I was traveling as a percussionist on a high-school band tour through parts of China. During the trip, I had the good fortune to be seated next to a young Buddhist monk during a flight from Shanghai to Beijing. About an hour into the flight, the flight attendant brought around beverages and the monk asked for a can of coca cola. I'm not certain why, but when she gave him the can she also handed him a packet of creamer to go along with it.
The monk didn't understand that the creamer was meant for coffee, so he proceeded to pour it into his soda, and it fizzed everywhere. Rather than being annoyed, he laughed so hard that he almost started to cry! At first, I was surprised by his reaction but then I started to laugh too. Neither one of us spoke the same language so we didn't talk at all, but I really remember thinking,"Man! I really want to be be like that guy!"
At the time, I had no idea what that monk had done to become so light-hearted, but I assumed that it must have something to do with meditation. And so, when I returned home to Montana a few weeks later, I bought a book on meditation and started practicing on my own. I can't say that I had any mind-blowing experiences that first time out, but practicing made me feel calm and happy. This small success served to give me the confidence that I was indeed on the right track, so I decided to keep on practicing from that point on in the hopes of deepening my experience.
Motivated by that initial experience with meditation, I eventually decided to pursue the possibility of greater health and happiness by dedicating myself more fully to traditional yoga and meditation practices. I began by studying philosophy at Portland State University and continued on to complete a three year yoga teaching apprenticeship with master yoga teacher Holiday Johnson while studying vinyasa yoga with "Yogi Bill" Counter in Portland Oregon. In 2001, under the kindly mentorship of Holiday, I began to synthesize many of my discoveries in philosophy, yoga and meditation into a unique style of vinyasa yoga called PranaVayu.
In 2003, I relocated to Boston MA and after teaching there for a number of years I began formal meditation studies with the Tibetan meditation master Khenpo Migmar Tseten Rinpoche [featured with David above] at the Harvard University Buddhist Chaplaincy. Before coming to the U.S., Khenpo Migmar had served as the main Abbot of the Sakya Monastary in Puruwalla India. Due to his academic achievements, Khenpo Migar was allowed to train directly with His Eminence Chogye Trichen Rinpoche, one of the greatest meditation masters of the last century and the private Tutor of the 14th Dalai Lama himself.
After studying with Khenpo Migmar for a number of years, I became one of the first non-Tibetan teachers authorized to teach Mangalam Yantra Yoga, a secret Buddhist Yoga practice dating from the 10th century A.D. Today, in addition to teaching PranaVayu Yoga and Mangalam Yantra Yoga, I teach Dharma courses on a variety of sutra topics under Khenpo Migmar's guidance and continue to attend ongoing classes in Vajrayana Buddhism (Highest Yoga Tantra) at the Sakya Center in Harvard Square.
In 2014, the circle came full round when I was asked to join the Prajna Upadesa Foundation, a small non profit organization responsible for organizing a public teaching for the His Holiness the Dalai Lama in Boston. I happily accepted, and served in a number of roles in the lead up to the event. Our small team put in a lot of hard work and were rewarded with a sold out event with over 2,000 people in attendance. Over the course of the day, monks and nuns from a variety of traditions and lay people from all across the U.S. gathered together to hear His Holiness give commentary on "the Eight Verses of Mind Training". It was a truly memorable experience, and one that I'll not forget.
In the hopes of sharing some of what I've learned with others, I regularly teach PranaVayu yoga classes and workshops all around the world. I also contribute content to the world's leading Yoga website Gaia.com (Formerly Gaiam TV) and a number of other mind/body and fitness publications. It's been an amazing journey so far, and I owe it all to that monk and his can of soda! If it hadn't been for him, I don't know if I ever would have found my way to yoga. I'll never have the chance to thank him personally, so instead, I've decided to do my best to pay it forward by introducing as many people as possible to the transformational effects of yoga and meditation.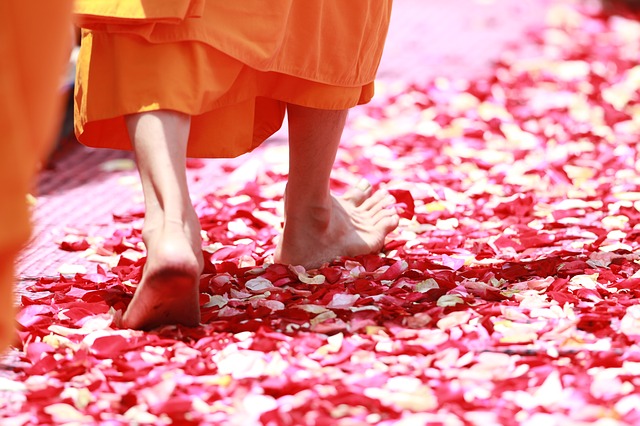 1. Meditation is a game-changer for depression and anxiety.
We know that meditation is good for our minds, but science has specifically shown that meditation can help with mental health conditions like depression and anxiety. Many researchers urge doctors to be prepared to talk to their patients about the profound role meditation could play in addressing psychological stress, and we agree!


2. You can tackle inflammation by calming your mind.
Research has shown that mindfulness based stress reduction (MSBR) can lead to decreased levels of inflammation. And many scientists are suggesting that behavioral interventions like MSBR could be used as a therapy for people with chronic inflammatory conditions—that means asthma, arthritis, IBS and many, many more!
3. Mindfulness can transform your PASSION!
Meditation can give you more energy, decrease stress, and make you more present and able to connect with your partner—all of which can build a deeper bond.
4. Going inward increases gray matter in the brain.
And this is a very good thing! Studies have shown that increases in these areas of the brain might explain, "meditators' singular abilities and habits to cultivate positive emotions, retain emotional stability, and engage in mindful behavior." So basically: The grayer the brain the better.
5. Lovingkindness meditation will widen your social circle.
A 2008 study found that even a few minutes of lovingkindness meditation increased feelings of social connectedness toward strangers. Meditation is a great way to increase positive vibes in your life, connect with yourself and others, and decrease any feelings of social isolation that some of us experience from time to time. Intrigued by this idea? Here are "10 Steps To Starting A Mindfulness Meditation Group."
6. You can meditate to ease physical pain.
Although researchers don't quite understand how it works, mindfulness meditation can help ease chronic pain and increase quality of life. This would be relevant for any of the 50 million Americans who suffer from a chronic pain condition, a problem that costs the country billions of dollars each year to treat with drugs and surgeries!
7. Being more present helps fight addiction and substance abuse issues.
Cultivating awareness of our thoughts and emotions is a major theme in meditation. In one study, participants enrolled in a mindfulness-based relapse prevention program reduced substance use and heavy drinking better that those enrolled in a traditional 12-step program.
8. Meditation will keep you young.
Research has shown that yogic-based meditation can improve cognitive functioning and increase telomerase activity, suggesting that it can protect us from the stress-induced aging of our cells. Enough said!
9. Just a little bit can boost your immune function.
Even a short-term meditation program (offered in an office setting) can lead to significant improvements in immune function. This makes cold and flu season a great time to start a mindfulness practice and proves that meditation is a simple, inexpensive, non-time-consuming, and amazingly powerful tool.
10. Mindfulness can increase your concentration.
Mindfulness and meditation show a lot of potential for helping adults and children with attention problems. A recent study suggests that a practice could "regulate impaired brain functioning and thereby reduce ADHD symptoms." And that's without all the side effects of amphetamines, which include (but are not limited to) irregular heartbeat, headache, and painful urination.
11. It can make you a more compassionate person.
Meditation increases areas in the brain that are responsible for feelings of empathy, and an ability to understand and read the emotions of others is linked to healthier and deeper relationships. Never a bad thing!
12. Meditation can improve your career.
It's possible that adopting a new practice could enhance your performance at work. Meditation has also been linked to improved job satisfaction and work engagement, which sound like pretty good perks to us.
13. It's possible to lower your blood pressure with mindfulness.
A study published in December of 2016 suggested that meditation is a promising alternative approach to lowering both systolic and diabolic blood pressures, some of the major risk factors in heart disease.
14. Stress reduction can improve your digestion.
Inflammatory bowel diseases (like ulcerative colitis and Crohn's disease) and IBS have strong psychological components. Meditation has been shown to reduce stress-related flare-ups for people who suffer from digestive problems.
15. Mindfulness groups help improve sleep and fight insomnia.
One study compared the benefits of a sleep education program to mindfulness groups and found that the mindfulness group had less insomnia, fatigue, and depression at the end of six weeks. So here's to a natural way to sleep soundly, all night long!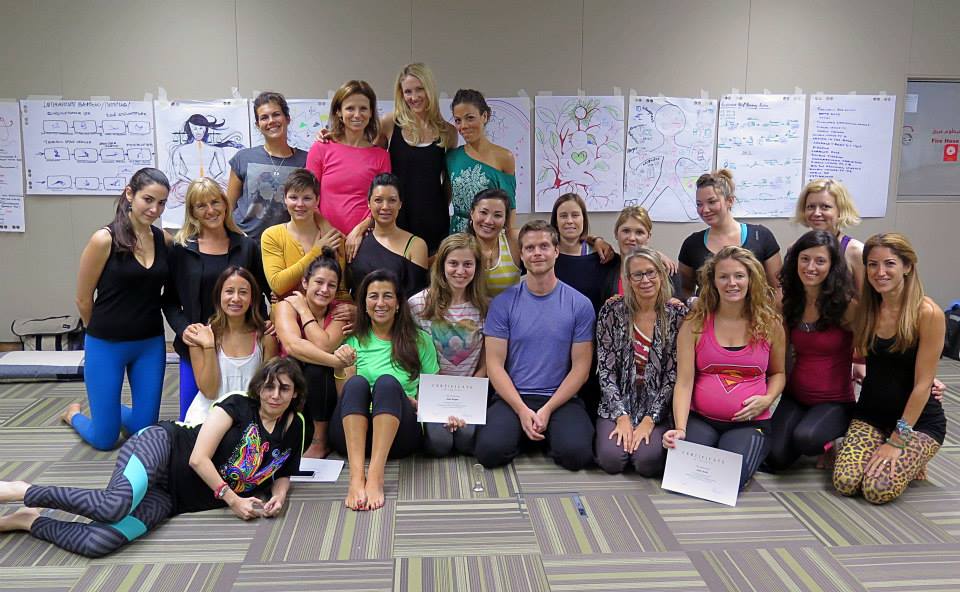 "David's teaching style is second to none. His knowledge and passion for his subject matter is truly inspirational. I feel very fortunate to have been taught by him as the founder of Pranavayu and to be one of his first group and international students. Any teacher that comes after him will have a hard act to follow. The course exceeded my expectations at the highest standard. I cannot recommend it highly enough! " Ruth Kellow


"I had an amazing time. Because the training was structured, my learning process was much easier. I felt supported in who I am instead of being pushed in a box that I don't fit. The tools were really useful and well planned. I will recommend it for sure." Catherine Paradis


"I highly recommend the PranaVayu course to anyone considering a 200hr yoga TT. The course is extremely well structured and everything is explained in a very clear and concise manner. No minute is wasted. David Magone is an exquisite teacher and a delightful person to deal with. Truly professional, incredibly knowledgeable and unbelievably patient. David is a great living example of the philosophy that he proclaims and it sets the bar high (in a good way) for those of us who feel inspired by him. Thank you for everything David!" Eva
"From the first class I had with David I thought...'THAT is the kind of yoga teacher I want to be!' He is supportive, kind, easy going and has just an overall peaceful way about him. I had told some of the other girls...'nice people gravitate to david!' Since this is my second class with him I can honestly say it's true. I'm still in touch with several girls that I met on my first course with David. I've learned so much from this course and David has been so supportive of all of us girls. He is one brave soul to take on so many of us all at once. This has been one of the best experiences of my life and I will be forever changed because of him. I hope I can do his hard work justice in my classes." Jade Al Mulla


"This course is well rounded, thought about and the delivery on David's part was second to none. We have been given strong tools to work with after the course and David has made himself accessible even after he has finished the course which is admirable and shows that he cares about the course content and believes in his product. During the course we have been constantly encouraged and gained confidence everyday. The course is intense but well worth giving up 3 weeks of your life for. Well done David, you have created a yoga practice that is truly outstanding, I am very proud to be associated and part of it." Jo Winstanley


"This entire process has motivated me to be a better and more aware person. I am in awe of how far I have come in my practice, David was such an amazing teacher and supporter, he definitely has sparked a fire in me that I hope will burn till the day I die. " Julianne Andrews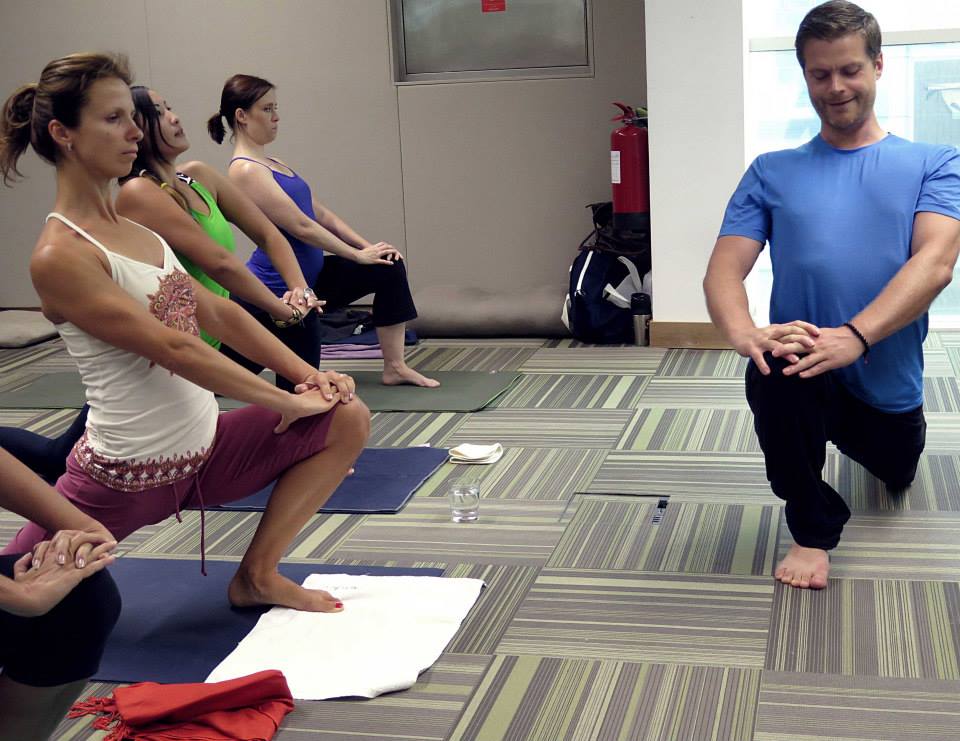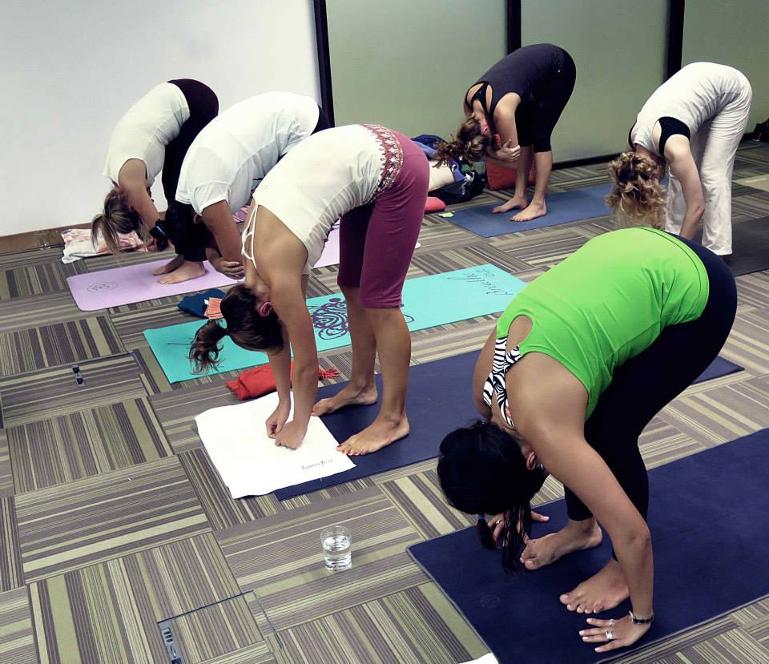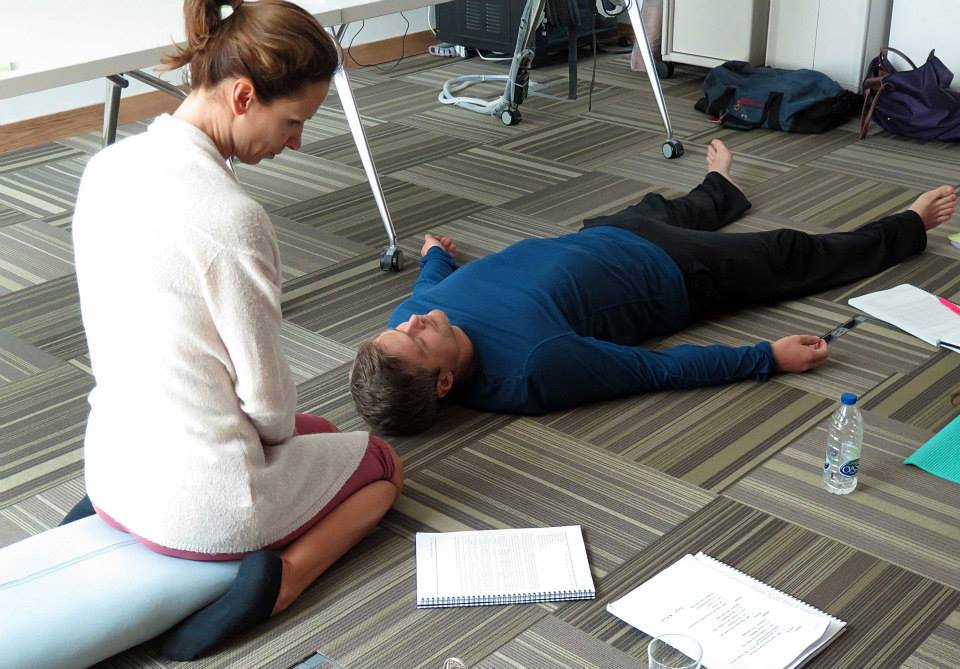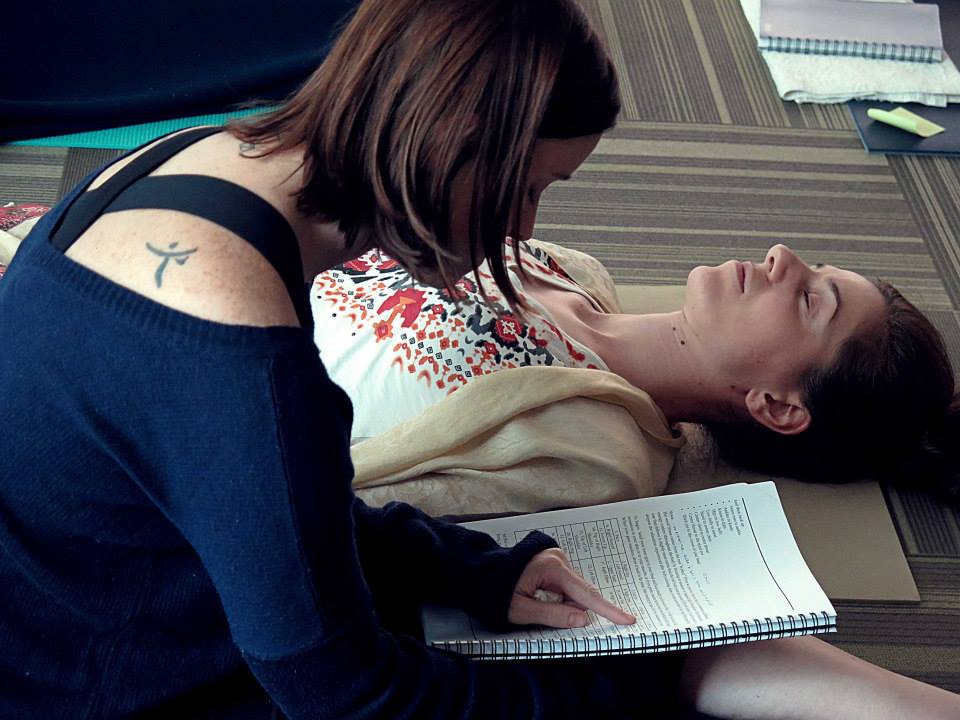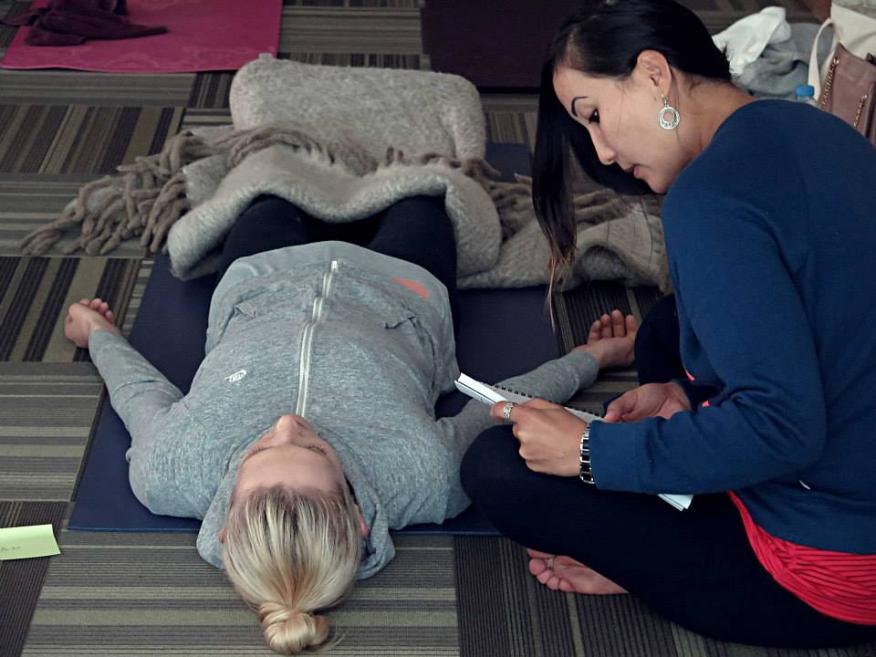 REGISTRATION STEPS:
RATE:
4,200 AED total investment.
A Deposit of 3,000 AED can be transferred to secure your place and remaining balance of 1,500 AED to be settled two weeks prior to the training.
Rate includes your comprehensive manual and certificate of completion. This training counts as 40 CEUS with Yoga Alliance.


Experience:
No experience is necessary.
Come with an open heart and compassion to immerse in this 5 day training for your own personal wellbeing and to share your new gifts as a yoga practitioner or meditator onto your clients.


PREREQUISITE BOOKS:
10% Happier by Dan Harris [To be read prior to training]
Just One Thing: Dr. Rick Hanson [To bring to the training]
HOTEL ACCOMMODATION
Need a place to stay during the training within 12 minute walking distance?
Please let us know upon submitting interest.
SPONSORING VENUE:
The spacious and sunny space of Voyoga Studio


Directions: i-Rise Tower, 31st Executive Floor, Tecom, Dubai, UAE
You will spot Carrefour, BioOrganics shop, Taqado and NAR restaurant on the ground level.
For Google map directions: click here

MEDITATION TEACHER TRAINING - SUBMIT YOUR INTEREST:
- REFUND POLICY -
PLEASE NOTE THAT ALL FEES ONCE PAID WILL NOT BE REFUNDED OR ADJUSTABLE UNDER ANY CIRCUMSTANCES. WE UNDERSTAND THAT EMERGENCIES AND OTHER LIFE SITUATIONS DO ARISE. WE RECOMMEND THAT YOU CAREFULLY REVIEW YOUR SCHEDULE AND UPCOMING OBLIGATIONS TO ENSURE THAT YOU CAN COMMIT FULLY TO THE COURSE. IF UNFORESEEN CIRCUMSTANCES OCCUR AND THE COURSE IS CANCELLED, THE FULL REGISTRATION FEE WILL BE REIMBURSED, BUT WE WILL NOT BE RESPONSIBLE FOR ANY OTHER CHARGES INCURRED BY THE PARTICIPANT, INCLUDING HOTEL & AIRLINE FEES.


FOR ANY INQUIRIES YOU CAN ALSO REACH US ON:
EMAIL: YOGALATESDXB@GMAIL.COM | CALL 00971 50 3289 642